Image: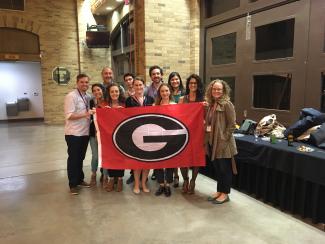 Congratulations to Romance Languages faculty and graduate students, who have had the following papers accepted to HLS21, to be held on the campus of Texas Tech University in Lubbock, TX on October 26-28, 2017! For a current presentation schedule, visit the HLS website here.
Number variation in the verbal morphology of Miskitu-Spanish bilinguals
Madeline Critchfield
Exaptation in Western Romance: giving rise to the Galician índice funcional de suxeito
Brian Gravely, Jr.
Agentivity and unaccusativity in Spanish
Timothy Gupton
The acquisition of wh- questions in second-language Spanish
Philip Limerick and Kathryn Bove
"Aleatório" and "random": linguistic borrowing and grammaticalization in Brazilian Portuguese
Camila Lívio and Diogo Cosme
"Esto es un pequeño pocket": Los cambios de código en el sintagma determinante
Ryan Platz, Dallin Larsen, and Bethany Bateman
Subject Expression among Miskitu-Spanish Bilinguals and Monolingual Spanish Speakers
Margaret Quesada and Madeline Critchfield
Adolescent speakers' use of "en plan" in peninsular Spanish
Kristin Roberts
Transitive andar: an emergent verb of possession
Shannon Rodriguez
Dialectology in Northern Peru: language variation and grammaticalization
Jessica Tiegs
Valores del Pretérito Perfecto Compuesto en español peninsular: análisis desde el punto de vista del oyente 
Isaac Castrillo de la Mata (guest researcher from Universidad de Salamanca)