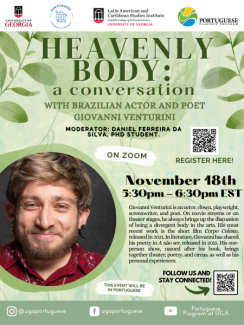 On Zoom
Special Information:
5:30 - 6:30
Heavenly Body: A Conversation with Brazilian Actor and Poet Giovanni Venturini
Moderator: Daniel Ferreira da Silva, PhD student
Giovanni Venturini is an actor, clown, playwright, screenwriter, and poet. On movie screens or on theater stages, he always brings up the discussion of being a divergent body in the arts. His most recent work is the short film Corpo Celeste, released in 2021. In literature, Giovanni has shared his poetry in A não ser, released in 2015. His one-person show, named after his book, brings together theater, poetry, and circus, as well as his personal experiences.