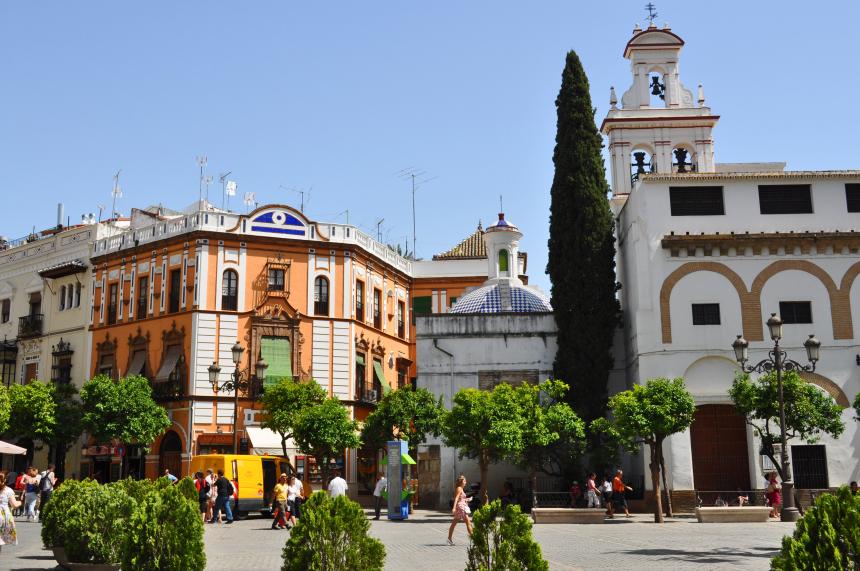 About the program
The Sevilla program is a seven-week stay in Spain's storied cultural capital and the undisputed heart of Andalucía.  This vivid and vibrant city on the Guadalquivir River has a color and a heat all its own.  Rivaling Valencia as Spain's third largest city, Sevilla is both a pulsing urban center and a place of sprawling gardens and lazy patios, where modern streetcars glide past the gothic Cathedral and the Moorish architecture of the Giralda while green-minded sevillanos zip along the bike lanes that thread the entire city.  Sevilla's long and brilliant history is written in stone: the 13th century Torre del Oro that guards the river, the vast Cathedral and the fortress of the Reales Alcázares, and a stupendous collection of Roman statues and other antiquities in the Archeological Museum are among the treasures that students can see on a daily basis in this program.  A veritable micro-culture unto itself, Sevilla also offers amazing food and a thriving summer nightlife that awakens as the cool of the evening sets in.  Students have guided tours of Sevilla's historic barrios and world-famous Golden Age and Moorish buildings, soccer matches and tapas outings, as well as the chance for a first-hand view of the world of tauromaquia, bull-fighting.  Daily classes on Spanish culture, language, and business are taught by local academics from the universities of Sevilla and Pablo de Olavide, and students live and have three meals a day with local families.
Semesters offered
Summer
Excursions
Lagos, Portugal / Madrid
Housing
Participants live and eat their meals in local Spanish households. Host families provide laundry services for the students.