118 Gilbert Hall
Special Guest Colloquium:
Amanda Powell,  University of Oregon
"Bridges Made of Water, Not Walls Made of Steel — Literary Translation"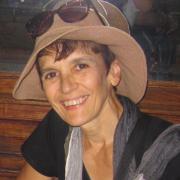 Amanda Powell's translations include The Answer / La Respuesta by Sor Juana Inés de la Cruz (with Electa Arenal; Feminist Press at City U. of New York, 2009); María San José Salazar, Book for the Hour of Recreation (ed. Alison Weber; U. Chicago, 2002); and Untold Sisters: Hispanic Nuns in Their Own Works (U. New Mexico, 2010). Her recent essays on translation are "Traveling in Place: Baroque Lyric Transports in Translation, or Flames that Bridge the Stream," (Spanish Golden Age Poetry in Motion, Tamesis) and "'My Way Bent' or, A Flaming Queen of Carthage Mambos Home" (Symposium 68:3), and she has received translation fellowships from the NEH and NEA. Her poems appear in literary journals from Agni to Zoland. She is Senior Lecturer II of Spanish and Latin American literature and translation at U. Oregon. 
Sponsored by the Department of Romance Languages, LACSI, and the Willson Center for Humanities & Arts