118 Gilbert Hall
José Cárdenas-Bunsen
Assistant Professor of Spanish, Director of Graduate Studies
Vanderbuilt University
"El Inca Garcilaso y la carrera eclesiástica: autobiografía y limpieza de sangre"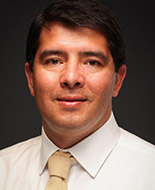 José Cárdenas Bunsen is Assistant Professor of Spanish at Vanderbilt University. He received his PhD from Yale University in 2008. He especializes in the political languages of the sixteenth century and in the Andalusian intellectual network of Garcilaso Inca de la Vega. He is the author of 'Escritura y derecho canónico en la obra de fray Bartolomé de las Casas' and of 'La aparición de los libros plúmbeos y los modos de escribir la historia. De Pedro de Castro al Inca Garcilaso de la Vega' (Iberoamericana Vervuert, 2011, 2018). He is currently preparing a collection of newly discovered documents related to the ecclesiastical career of Garcilaso Inca in Córdoba. José Cárdenas Bunsen has also taught at Bucknell University and at the Pontifical Catholic University of Perú.
This talk has been made possible through generous funding from the Willson Center for the Humanities and Arts, the Latin American and Caribbean Studies Institute, and the Department of Romance Languages.