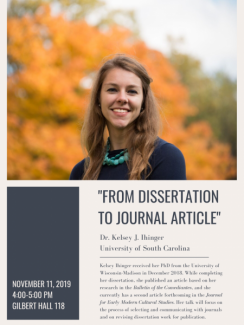 Gilbert Hall 118
Dear Romance Languages Graduate Students,
You are invited to attend the talk, "From Dissertation to Journal Article," by Dr. Kelsey J. Ihinger (University of South Carolina), on Monday, November 11, at 4:00PM in Gilbert Hall 118.
Kelsey Ihinger received her PhD from the University of Wisconsin-Madison in December 2018. While completing her dissertation, she published an article based on her research in the Bulletin of the Comediantes, and she currently has a second article forthcoming in the Journal for Early Modern Cultural Studies. Her talk will focus on the process of selecting and communicating with journals and on revising dissertation work for publication.
We hope to see you there!