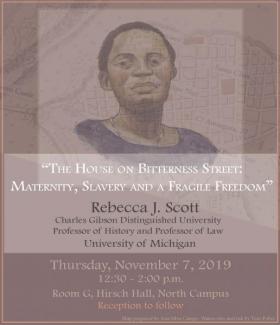 Room G, Hirsch Hall, UGA School of Law
If your research interests are related to the African Diaspora, litigation by enslaved people, or questions of emerging subjectivities in the Caribbean, or if you are thinking about conducting archival research in relation to your dissertation, please make note of an important upcoming lecture by Professor Rebecca J. Scott, Charles Gibson Distinguished University Professor of History and Professor of Law at the University of Michigan.  Scott teaches courses on civil rights, the boundaries of citizenship in historical perspective, and law in slavery and freedom. You can get an idea of her research in her book, Freedom Papers : An Atlantic Odyssey in the Age of Emancipation, Harvard UP, 2012.
The title of Professor Scott's  talk is, "The House on Bitterness Street:  Maternity, Slavery and a Fragile Freedom."  A reception in the Dunlap Room will follow the lecture.  
Professor Scott will also meet with graduate students on Friday, November 8, at 9:30 in the History Department Conference Room, 201 LeConte Hall.