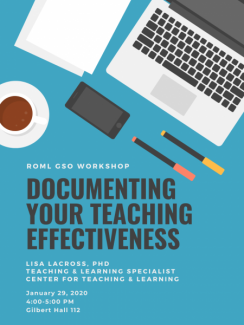 Gilbert Hall 112
On Wednesday, January 29, Lisa LaCross, Teaching and Learning Specialist in the Center for Teaching and Learning, will join us for a workshop entitled, "Documenting Your Teaching Effectiveness." The workshop will take place from 4:00-5:00 PM in Gilbert Hall 112.
Here is a brief description: How do you know/show that your teaching is effective? This workshop explores methods to document your teaching impact and how to translate your teaching effectiveness into an academic job application.
We hope to see you there!